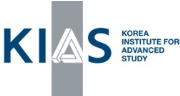 KIAS Combinatorics Workshop Series

| | |
| --- | --- |
| 8th Workshop | Home > 8th Workshop |
Date: May 29-30 (Fri-Sat), 2015
Venue: Room 1503, KIAS
Invited Speakers
Shishuo Fu (
Chongqing University, China)

Tony Huynh (
Sapienza University of Rome, Italy)
Tommy Jensen (
Kyungpook National University)
Seungjin Lee
(KIAS)
Kyoungsuk Park (Ajou University)
Younghwan Son (
Weizmann Institute of Science
, Israel)
Jiang Zeng (
Claude Bernard University Lyon 1, France)
Support:
(1) Meal:

We provide all meals during the workshop to all participants.

(2) Accommodation:



-
We support accommodations for May 29th to speakers and students.

-
For speakers, we support rooms at KIASTEL or Holiday Inn Hotel
near KIAS.
- For students and researchers, the lodging expenses will be reimbursed up to KRW 44,000.
For more information on accommodation facilities, please see
Accommodation Page
.
We recommend

Hotel KP

near Hoegi station with rate KRW 88,000 for two persons.

- 숙박에 대하여 지원이 필요하신 학생분들은 키아스 외부의 숙박시설을 이용하신 후, 숙박영수증, 통장사본,
학회참가동의서

를 제출하시면 숙박비를 최대 1인당 4만4천원으로 실비 정산하여 지급하여 드립니다.
(구비서류 제출은 Workshop당일 직접 제출하시거나 또는 이메일(이수연, suyeon@kias.re.kr)로 제출가능합니다.)
- 만일 2명이 함께 방을 이용하는 경우는 최대 8만8천원까지 실비로 지원하여 드립니다.


Hotel KP

(Benikea, 회기역 부근)를 추천하며 2인1실을 고등과학원 제휴가로 이용할 경우 8만8천원입니다.


<Schedule>

[1st Day: May 29 (Fri)]

1:55 ~ 2:00 Opening address: Jeong Han Kim
2:00 ~ 2:40 <Talk I> Younghwan Son
Sets of recurrence along prime powers
2:50 ~ 3:30 <Talk II> Kyoungsuk Park
Combinatorial results with permutation tableaux of type B
3:30 ~ 4:00 Coffee Break
4:00 ~ 4:40 <Talk III> Seungjin Lee
Affine Fomin-Kirillov algebra
4:50 ~ 5:30 <Talk IV> Tommy Jensen
On a linear algebra version of the Haj'os Theorem
5:30 ~ Banquet (

샤브샤브홍학식당

)

[2nd Day: May 30 (Sat)]

~ 09:30 Breakfast
09:30 ~ 10:10 <Talk V> Jiang Zeng
Unimodality and $gamma$-positivity of Eulerian polynomials
10:10 ~ 10:40 Coffee Break
10:40 ~ 11:20 <Talk VI> Shishuo Fu
Enumeration of simultaneous core partitions: a survey
11:30 ~ 12:10 <Talk VII> Tony Huynh
Transfinite Ford-Fulkerson on a Finite Network
Abstract (Click Here)