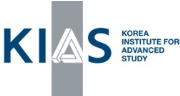 KIAS Combinatorics Workshop Series

| | |
| --- | --- |
| 9th Workshop | Home > 9th Workshop |
Date: September 11-13 (Fri-Sun), 2015
Venue: The Bloomvista, Yangpyeong (현대블룸비스타호텔,

http://www.bloomvista.co.kr/)<


Building A, Room 142 (click

here

for the the map of the hotel.)

Invited Speakers
Jihoon Choi (Seoul National University)
Sen-Peng Eu (National Taiwan Normal University)
Jun Fujisawa (Keio University, Japan)
Sung-Tae Jin (KIAS)
Choongbum Lee (MIT, United States)
Sunyoung Nam (KIAS)
Atsuhiro Nakamoto (Yokohama National University, Japan)
Boram Park (Ajou University)
Jongyook Park (Kyungpook National University)
Mark Siggers (Kyungpook National University)
Yusuke Suzuki (Niigata University,Japan)


Support:
(0) Shuttle Bus: We provide a shuttle bus from KIAS to the hotel on September 11th, the departure time is 13:30. There will be a bus from the hotel to KIAS/Chungyangni station(청량리역) on September 13th and the departure time will be announced later.
(1) Meal:

We provide all meals during the workshop to all participants.


(2) Accommodation: We support accommodations for September 11th and 12th to all participants, at the hotel of the Bloomvista, in Yangpyeong (http://www.bloomvista.co.kr/).
<Schedule> (Click HERE for abtracts)

[1st Day: Sep 11 (Fri)]
15:30 ~ 15:55 Registration


15:55 ~ 16:00

Opening address: Jeong Han Kim
16:00 ~ 17:00 <Talk 1> Choongbum Lee (special lecture)
17:10 ~ 17:50 <Talk 2> Jun Fujisawa
18:00 ~ Dinner

[2nd Day: Sep 12 (Sat)]
9:30 ~ 10:10 <Talk 3> Atsuhiro Nakamoto
10:10 ~ 10:40 Coffee Break
10:40 ~ 11:20 <Talk 4> Yusuke Suzuki
11:30 – 12:10 <Talk 5> Boram Park
12:10 ~ 14:00 Lunch

14:00 ~ 14:40 <Talk 6> Sen-Peng Eu
14:50 ~ 15:20 <Talk 7> Sunyoung Nam
15:30 – 16:00 <Talk 8> Sung-Tae Jin
18:30 ~ Banquet

[3rd Day: Sep 13 (Sun)]
9:30 ~ 10:10 <Talk 9> Mark Siggers
10:10 ~ 10:40 Coffee Break
10:40 ~ 11:20 <Talk 10> Jongyook Park
11:30 – 12:00 <Talk 11> Jihoon Choi
12:00 ~ Lunch