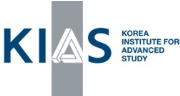 KIAS Combinatorics Workshop Series

| | |
| --- | --- |
| 10th Workshop | Home > 10th Workshop |
Date: December 21-23 (Mon-Wed), 2015
Venue: The Bloomvista, Yangpyeong (현대블룸비스타호텔,

http://www.bloomvista.co.kr/)<


Building C (click

here

for the the map of the hotel.)

Invited Speakers
Eun Ju Cheon (Gyeongsang National University)
Gi-Sang Cheon (Sungkyunkwan University)
Soojin Cho (Ajou University)
Jongyoon Hyun (KIAS)


Dong Yeap Kang

(KAIST)
Hyun Kwang Kim (POSTECH)
Jon-Lark Kim (Sogang University)
Jae-Ho Lee (Tohoku University)
Kang Ju Lee (Seoul National University)
Joohan Na (KIAS)
Seongmin Ok (Technical University of Denmark)
Seonjeong Park (NIMS)
Registration: If you want to participate in the workshop, then please fill out the registration form by

December 6th (closed).

Support:
(1) Meal:

We provide all meals during the workshop to all participants.


(2) Accommodation: We support accommodations for December 21st and 22nd to all participants, at the hotel of the Bloomvista, in Yangpyeong (http://www.bloomvista.co.kr/).
<Schedule>(Click HERE for abtracts)

[1st Day: Dec 21 (Mon)]
14:00 ~ 14:25 Registration


14:25 ~ 14:30

Opening address: Jeong Han Kim
14:30 ~ 15:10 <Talk 1> Hyun Kwang Kim
15:20 ~ 16:00 <Talk 2> Eun Ju Cheon
16:00 ~ 16:30 Coffee Break (30 minutes)
16:30 ~ 17:10 <Talk 3> Jon-Lark Kim
17:20 ~ 18:00 <Talk 4> Gi-Sang Cheon

[2nd Day: Dec 22 (Tue)]
9:30 ~ 10:10 <Talk 5> Jongyoon Hyun
10:10 ~ 10:40 Coffee Break (30 minutes)
10:40 ~ 11:10 <Talk 6> Seongmin Ok
11:20 ~ 12:00 <Talk 7> Jae-Ho Lee
12:00 ~ 14:00 Lunch
14:00 ~ 14:40 <Talk 8> Seonjeong Park
14:50 ~ 15:20 <Talk 9> Kang Ju Lee
15:30 ~ 18:00 Discussion
18:00 ~ Banquet

[3rd Day: Dec 23 (Wed)]
9:30 ~ 10:10 <Talk 10> Soojin Cho
10:10 ~ 10:40 Coffee Break (30 minutes)
10:40 ~ 11:20 <Talk 11> Joohan Na
11:30 ~ 12:00 <Talk 12> Dong-Yeop Kang
12:00 ~ Lunch