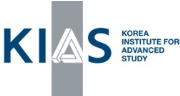 The 3rd KIAS Workshop
on Particle Physics and Cosmology
5th fl., Serminar Rm #1503, KIAS
Nov. 11 (Mon) – Nov. 15 (Fri), 2013

This year we arrange a number of experimental talks on the Higgs and new particle searches at the LHC, and (in)direct DM searches at AMS2, ICECUBE, FERMI and Planck etc. And a number of invited theory talks on the related issues such as SM Higgs and beyond, BSMs, DM, and implications of Planck data on particle physics and cosmology.
We invite a number of contributed talks by the participants, especially the young post-doctors and the students are strongly encouraged to apply for a contributed talk in the registration form. The deadline for the contributed talks will be October 15(Tue) 2013.


<The 3rd KIAS Workshop on particle physics and cosmology>


Secret Garden, Insa-dong, Jongno, or your own

at the lobby or on the roof

Public Lecture on Higgs at Sogang Univ.