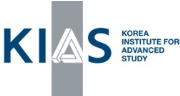 "The ICAP 2016 Summer School"
- The 25th International Conference on Atomic Physics -
July 18-22, 2016
1503 conference room,
Korea Institute for Advanced Study (KIAS), Seoul, Korea

| | |
| --- | --- |
| Registration | Home > Registration |
The registration is now closed.


All the participants are required to register the
ICAP 2016 conference
.

For the registration, please c
hoose the appropriate option on the online registration form of the
ICAP 2016 conference
.

Internationl Student Fee: US$ 200
Regsitration fee includes double occupancy accomodations
(in Benikea Hotel KP from 17th sunday to 22nd friday), excursion, lunch from monday to friday, banquet, and all the materials of the summer school.

Benikea Hotel KP
http://www.hotelkp.co.kr/
* It takes about 15 minutes from BENIKEA Hotel KP to KIAS on foot.

(click "More options" above to zoom)
Travel support
Students in need of travel support should submit a letter (free styles, pdf file format) together with a signature of their thesis advisor by MAY 1. For the selected students, US$1,000 per person will be reimbursed when they submit the boarding pass of the air ticket during the summer school.


국내 참가자의 등록

ICAP 2016 여름학교는
ICAP 2016 conference
를 등록한 참가자(학생)들을 대상으로 합니다.
여름학교에 등록하고자 하는 국내 참가자는
ICAP 2016 conference
의 온라인 등록 form 작성 시
여름학교 등록 옵션을 선택 해 주십시오.

국내 참가자를 위한 여름학교 등록비는 5만원 입니다 (
관련 자료, 기간 중 점심, Banquet 포함).
국내 참가자에게는
숙소가 별도로 제공되지 않습니다.

여름학교 기간 중 숙소가 필요한 경우 icap2016summerschool@gmail.com 으로 문의 바랍니다.