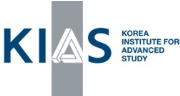 Date
August 6-10, 2014
Venue Daejeon Convention Center, Daejeon, Korea
Invited Speakers
Carolina Araujo
(IMPA)
Paolo Cascini (Imperial College London)
Fabrizio Catanese (Universität Bayreuth & KIAS)
François Charles (MIT)
Jungkai Chen (National Taiwan University)
Insong Choe (Konkuk University)
Gavril Farkas (Humboldt-Universität)
Tommaso de Fernex (University of Utah)
Baohua Fu (AMSS, Chinese Academy of Sciences)
Mark Gross (University of Cambridge)
Kangjin Han (KIAS)
Brendan Hassett (Rice University)
DongSeon Hwang (Ajou University)
Donghoon Hyeon (POSTECH)
Junmyeong Jang (University of Ulsan)
Young-Hoon Kiem (Seoul National University)
Bruno Klingler (Institut de Mathématiques de Jussieu)
János Kollár (Princeton University)
Shigeyuki Kondo (Nagoya University)
Sándor Kovács (University of Washington)
Yongnam Lee (KAIST)
Christian Liedtke (Technische Universität München)
Diane Maclagan (University of Warwick)
Keiji Oguiso (Osaka University & KIAS)
Mihnea Popa (

Northwestern University

)
Ziv Ran (University of California, Riverside)
Frank-Olaf Schreyer (Universität des Saarlandes)
Dongsoo Shin (Chungnam National University)
Xiaotao Sun (AMSS, Chinese Academy of Sciences)

Montserrat Teixidor (Tufts University)
Claire Voisin (CNRS-École Polytechnique)
Chenyang Xu (BICMR)
De-Qi Zhang (National University of Singapore)


Local Organizing Committee

JongHae Keum (Chair, KIAS)
Young-Hoon Kiem (Seoul National University)
Seonja Kim (Chungwoon University)
Sijong Kwak (KAIST)
Yongnam Lee (KAIST)
Jihun Park (IBS & POSTECH)


Scientific Committee

Arnaud Beauville (Université Nice)
Fabrizio Catanese (Universitä Bayreuth & KIAS)
David Eisenbud (MSRI)
Yujiro Kawamata (University of Tokyo)
JongHae Keum (KIAS)
János Kollár (Princeton University)
Robert Lazarsfeld (Stony Brook University)
Jun Li (Stanford University)
Eduard Looijenga (MSC Tsinghua University Beijing & University of Utrecht)
Miles Reid (University of Warwick & KIAS)

This conference is hosted by KIAS, and ASARC in KAIST.

Contact


KIAS Administrative Office


Tel. +82 2 958 2577
Email.
cmc@kias.re.kr