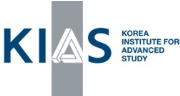 The 6th KIAS Workshop on
Cosmology and Structure Formation
Conference Hall (5th fl.), KIAS, Seoul Nov. 3 - 7, 2014

We are pleased to announce "The 6th KIAS Workshop on Cosmology and Structure Formation", hosted by Korea Institute for Advanced Study (KIAS).
Our understanding of the cosmos has been making rapid progress thanks to an interplay of recent precision cosmological observations of the CMB and LSS, and advancement in theoretical understanding. The aim of this workshop is to review the recent progress in the observational results and our current state of understanding of them from a theoretical perspective, in particular, within the framework of the standard Lambda CDM model and inflation.

Scientific sessions will be from Nov. 03 to Nov. 06. Deadline of on-line regitration is Oct. 08, 2014.

For the possibility of poster presentations and participation after the deadline, please contact us directly. Thanks!

We encourage participants to make contributed presentations.
Each contributed presentation will consists of a 5 minute oral talk and poster presentation.

Invited Speakers
Filipe Abdalla (UCL)
Marcelo Alvarez (CITA)
Arunima Banerjee (NCRA-TIFR)
Hans Böhringer (MPE)
Xuelei Chen (NAOC)
Pravabati Chingangbam (IIA)
Gayoung Chon (MPE)
Asantha Cooray (UC Irvine)
Antonaldo Diaferio (Torino)
Jaan Einasto (Tartu)
Maret Einasto (Tartu)
Jaime E. Forero-Romero (Los Andes)
Zuhui Fan (KIAA)
Eric Gawiser (Rutgers)
Jinn-Ouk Gong (APCTP)
Alma X. González-Morales (UC Santa Cruz)
Masashi Hazumi (IPMU)
Pekka Heinämäki (Turku)
Xavier Hernández (UNAM)
Chiaki Hikage (Nagoya)
Jai-chan Hwang (KNU)
Myungshin Im (SNU)
Donghui Jeong (Penn State)
Yipeng Jing (SJTU)
Han-Seek Kim (Melbourne)

Takeshi Kobayashi (CITA)
Hyung Mok Lee (SNU)
Myung Gyoon Lee (SNU)
Cheng Li (SHAO)
Heidi Lietzen (IAC)
Xiaowei Liu (KIAA)
Ilian Iliev (Sussex)
Satoshi Miyazaki (NAOJ)
Changbom Park (KIAS)
Christophe Pichon (IAP)
Florent Renaud (Surrey)
Kennneth Rines (Western Washinton)
Enn Saar (Tartu)
Arman Shafieloo (APCTP)
Yasushi Suto (Tokyo)
Pranjal Trivedi (Delhi)
Keiichi Umetsu (ASIAA)
Yougang Wang (NAOC)
Gary Wegner (Dartmouth)
Xiaohu Yang (SJTU/SHAO)
Sukyoung Yi (Yonsei)
Jun Zhang (SJTU)
Wen Zhao (USTC)

Science Organizing Committee
Local Organizing Committee

J. Richard Bond

(CITA)


Matthew Colless (ANU)


Jai-chan Hwang

(KNU)


Myungshin Im

(SNU)


Yipeng Jing

(SJTU)


Shude Mao

(NAOC)


Changbom Park

(KIAS)


Enn Saar

(Tartu)


Yasushi Suto

(Tokyo)


Michael S. Vogeley (Drexel)


Sukyoung Yi

(Yonsei)

Bernardo Cervantes Sodi (KIAS)
Sungwook E. Hong

(KIAS)




Jeong-Sun Hwang

(KIAS)


Juhan Kim

(KIAS)




Seokcheon Lee

(KIAS)
Benjamin L'Huillier

(KIAS, Chair)




Xiao-Dong Li

(KIAS)
Graziano Rossi (Sejong)
Cristiano Sabiu (KIAS)
Hyunmi Song

(KIAS)

Contact

Benjamin L'Huillier, LOC chair

---