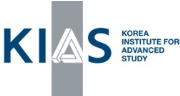 The 6th KIAS Workshop on
Cosmology and Structure Formation
Conference Hall (5th fl.), KIAS, Seoul Nov. 3 - 7, 2014

| | |
| --- | --- |
| List of Participants | Home > List of Participants |
1 Abdalla, Filipe UCL
2 Alma, Gonzalez Santa Cruz Institute for Particle Physicsc (SCIPP)
3 Alvarez, Marcelo CITA
4 Banerjee, Arunima NCRA-TIFR, India
5 Bang, Tae-Yang Dept. Astronomy and Atmospheric Sciences, Kyungpook National University
6 Beck, Alexander University Observatory Munich
7 Biern, Sanggyu SNU
8 Boehringer, Hans Max-Planck-Institut für extraterrestrische Physik
9 Cervantes, Sodi Bernardo KIAS
10 Chen, Xuelei National Astronomical Observatories of China (NAOC), Chinese Academy of Sciences
11 Chingangbam, Pravabati IIA
12 Cho, Kihyun Korea Advanced Institute of S &T
13 Choe, Sunuk Pohang University of Science and Technology
14 Choi, Ki-Young KASI
15 Chon, Gayoung Max-Planck-Institut für extraterrestrische Physik
16 Chung, Haeun Seoul National University
17 Cooray, Asantha University of California, Irvine
18 Diaferio, Antonaldo Universita` di Torino - Dip. di Fisica
19 Douspis, Marian Institut Astrophysique Spatiale
20 Einasto, Jaan Tartu
21 Einasto, Maret Tartu Observatory
22 Fan, Zuhui Department of Astronomy, School of Physics, Peking University
23 Forero-Romero, Jaime Universidad de los Andes
24 Gawiser, Eric Rutgers University
25 Gobat, Raphaël KIAS
26 Goerdt, Tobias University of Vienna
27 Gong, Jinn-Ouk APCTP
28 Heinämäki, Pekka Tuorla Observatory, University of Turku
29 Hernandez, Xavier Instituto de Astronomia, UNAM, Mexico
30 HIKAGE, CHIAKI Nagoya University
31 Hong, Sungwook E KIAS
32 Hwang, Jai-chan KNU
33 Hwang, Ho Seong Korea Institute for Advanced Study
34 Hwang, Jeong-Sun KIAS
35 Hyun, Hwasu Kyungpook National University
36 Ikeda, Hiroyuk i Ehime Univ./ASIAA
37 Iliev, Ilian University of Sussex
38 Im, Myungshin Seoul National University
39 Jang, In Sung Seoul National University
40 Jee, Inh Max-Planck Institut für Astrophysik
41 Jeong, Donghui Pennsylvania State University
42 Jing, Yipeng Shanghai Jiaotong University (SJTU)
43 JOO YEON, KIM KYUNG HEE UNIVERSITY Astronomy &Space Science
44 Jung, Sunghoon KIAS
45 Jung, Su-Jin Kyungpook National University
46 Khakshournia, Samad Nuclear Science and Technology Research Institute(NSTRI)
47 Kim, Hansik The University of Melbourne
48 Kim, Juhan KIAS
49 Kim, Minjin Korea Astronomy and Space Science Institute (KASI)
50 Kim, DongJin Yonsei Univ
51 Kim, Min Gyu Seoul Nat`l Univ.
52 Ko, Jongwan Korea Astronomy and Space Science Institute (KASI)
53 Ko, Youkyung Seoul National University
54 Kobayashi, Takeshi Canadian Institute for Theoretical Astrophysics, University of Toronto
55 Koo, Han Wool Seoul National University
56 Lee, Myung Gyoon Seoul National University
57 Lee, Hyung Mok SNU
58 Lee, Gwang-Ho Seoul National Univ.
59 Lee, Seokcheon KIAS
60 L'Huillier, Benjamin KIAS
61 Li, Cheng Shanghai Astronomical Observatory
62 Li, Xiao-Dong KIAS
63 Li, Jian Nanjing University
64 Lietzen, Heidi Instituto de Astrofísica de Canarias (IAC)
65 Liu, Xiaowei Peking University
66 Liu, Lili Peking University
67 Majumdar, Suman Deaprtment of Astronomy, Stockholm University
68 Masashi, Hazumi KEK / Kavli IPMU
69 Miyazaki, Satoshi National Astronomical Observatory of Japan
70 Oh, Minji University of Science and Technology(UST)/KASI
71 pacif, shibesh kumar jas Manipal University Jaipur
72 Pacifici, Camilla Yonsei University Observatory
73 Park, Hyunbae University of Texas at Austin
74 Park, Myeong-Gu Kyungpook National University
75 Park, Chan KAIST / KISTI
76 Park, Chan-Gyung Chonbuk National University
77 park, changbom KIAS
78 Paudel, Sanjaya KASI
79 Pichon, Christophe Institut d`Astrophysique de Paris
80 Renaud, Florent University of Surrey
81 Rines, Kenneth Western Washington University
82 Robles Sanchez, Victor Hugo CINVESTAV IPN / UC Irvine
83 Rodriguez-Meza, Mario A. Instituto Nacional de Investigaciones Nucleares
84 Rossi, Graziano Sejong University
85 Saar, Enn Tartu Observatory
86 Sabiu, Cristiano KIAS
87 Saga, Shohei Nagoya university
88 Shafieloo, Arman APCTP
89 Shi, Pi APCTP
90 Shim, Junsup Seoul National University Physics &Astronomy Program
91 Shin, Jihye KNU
92 Shohei, Aoyama Nagoya University
93 Sohn, Jubee Seoul National University
94 Song, Yong-Seon KASI
95 Song, Hyunmi KIAS
96 Song, Jeeseon Korea Astronomy and Space Science Institute
97 Suto, Yasushi Department of Physics, The University of Tokyo
98 Tanti, Kamal Kumar University of Technology and Management, Meghalaya
99 Trivedi, Pranjal Sri Venkateswara College, University of Delhi, India
100 Umetsu, Keiichi Academia Sinica Institute of Astronomy and Astrophysics (ASIAA)
101 Wang, Yougang NAOC
102 Wegner, Gary Dept. Physics &Astronomy, Dartmouth College
103 Yang, Xiaohu Shanghai Astronomical Observatory / Shanghai JiaoTong University
104 Yi, Sukyoung Yonsei
105 Yun, Chae-min Kyungpook National University
106 Yun, Kiyun Yonsei Univ.
107 Yushchenko, Alexander (Oleksandr) Sejong University, Seoul
108 Zhang, Jun Shanghai Jiao Tong University
109 Zhao, Wen University of Science and Technology of China
110 ZHENG, YI KASI