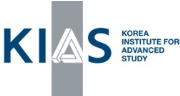 "Seoul Conference on Frontiers in Quantum Information Science"
-- A Satellite Meeting of ICAP 2016 in Seoul --
July 22-23, 2016
Conference Hall 1st fl.,
Korea Institute for Advanced Study (KIAS), Seoul, Korea

Time

TITLE

Speaker

9:00-10:30

(Plenary I) Modular and Reconfigurable Quantum Computing with Trapped Ions

Chris Monroe (U. Maryland)

(Plenary II) Quantum error detection, high-fidelity control, and experiencing other things quantum

Jerry Chow (IBM)

10:30-11:00

Break

11:00-12:30

(Plenary III) TBA

Rainer Blatt (U. Innsbruck)

(Plenary IV) Australia's Quantum Perspective

Sven Rogge (U. New South Wales)

12:30-14:00

Lunch

14:00-16:00

Nano-Scale `Dark State' Optical Potentials for Cold Atoms

Peter Zoller (U. Innsbruck)

High fidelity qubit operations in trapped ion quantum computation

Jungsang Kim (Duke U.)

Towards a new class of trapped ion experiments with ion rings

Hartmut Haeffner (UC Berkeley)

High NOON State of Phonons in a Trapped Ion System

Kihwan Kim (Tsinghua U.)

16:00-16:30

Break

16:30-18:00

A quantum parametric oscillator with trapped ions

Dzmitry Matsukevich (NUS)

Constructing a trapped-ion quantum computer

Winnie Hensinger (U. Sussex)

Development of quantum information technologies at SK telecom

Taehyun Kim (SK telecom)

18:00-

Banquet*
* The banguet will be held in
Holiday Inn Seongbuk
from 18:20pm.
There is a 10,000 KRW fee to participate in the banquet, and
a shuttle bus to the venue
will be provided for participants (from KIAS 18:20pm).
July 23 Saturday

Time

TITLE

Speaker

9:00-10:30

Cavity Quantum Electrodynamics: A Toolbox for Scalable Quantum Information Science

Gerhard Rempe (MPI)

Observation of Four-body Ring-exchange Interactions and Anyonic Fractional Statistics in Optical Lattices

Zhen-Sheng Yuan (USTC)

Moving microtraps for low-entropy arrays of atomic qubits

Jaewook Ahn (KAIST)

10:30-11:00

Break

11:00-12:30

Engineering a Better Superconducting Flux Qubit

Will Oliver (MIT)

Current status of the superconducting qubit technology in KRISS

Yonuk Chong (KRISS)

Quantum gates for superconducting qubits

Hanhee Paik (IBM)

12:30-14:00

Lunch

14:00-16:00

Hybrid Quantum Information Processing

Akira Furusawa (U. Tokyo)

Quantum information processing with light beyond single photon qubits

Hyunseok Jeong (SNU)

Loophole-free Bell tests for a Random Number Beacon

Sae Woo Nam (NIST)

Transmission of Photonic Spatial Qudits through Optical Fibers

Hee Su Park (KRISS)

16:00-16:30

Break

16:30-18:30

Exciton-Polariton Quantum Information Processing

Na Young Kim (U. Waterloo)

Semiconductor quantum dot based quantum electronics

Dohun Kim (SNU)

Quantum science with atom-like defects in diamond

Misha Lukin (Harvard U.)

Cold Matter Assembled Atom-by-Atom

Hannes Bernien (Harvard U.)

18:30-

Closing