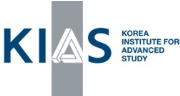 Invariants in Low-dimensional Topology
Date: May 10-12, 2017 Place: Room 8101, KIAS
| | |
| --- | --- |
| Transportation | Home > Transportation |
There are several ways to get to KIAS from Incheon International Airport. You may either take the airport limousine, the airport train (AREX), or/and a taxi. Choose the most convenient way by referring to the following.

►Limousine Bus
• You may purchase Limousine or Premium Bus tickets at the Transportation Information Counters located indoors (Exit 4 and 9) or outdoors (Exit 4, 6, 7, 8, 11, and 13) on the passenger terminal arrival floor.
• No. 6002
The most convenient limousine bus to KIAS is No. 6002, bound for Cheongnyangni. The bus stops at the airport are "5B" and "12A". The fare is 10,000 Korean Won, and the bus departs every 12 to 15 minutes. The first bus departs from the airport at 05:30 and the last bus departs at 23:30. You can get off at 'Cheongnyangni Station' bus stop, which will take about an hour and half. Take a taxi to reach KIAS.
• No. 6101
You can also take the 'Dobong(Seongdong)' route, No. 6101. The bus departs from bus stop 3B and 10A and costs 14,000 won. Get off at 'Korea Univ. Station' bus stop and take a taxi.
※ Either from Cheongnyangni or Korea Univ. Station, it will cost you less than 3,000 Korean Won. Show the 'Direction for Taxi Driver' to the taxi driver so that the driver can understand where you are going. For more information, please visit the Incheon International Airport website.